Description
Elegance and functionality are unified within the fantastic Buschbeck St Moritz BBQ / Outdoor Fireplace. The two tone appearance of the white quartz granite structure contrasts superbly with the brown combustion chamber and fuel storage area. Adding to the overall stunning appearance of the Buschbeck St Moritz, is a real copper insert on the front of the mantel.
The double skinned construction of the St Moritz means it can burn several different types of fuel allowing you to start off cooking with charcoal and easily move on to logs or firewood when you want to sit round the fireplace to keep nice and warm! This double skin is also a great safety feature, keeping the outside surface cooler to the touch. The convenient fuel storage area underneath is great for both logs and charcoal.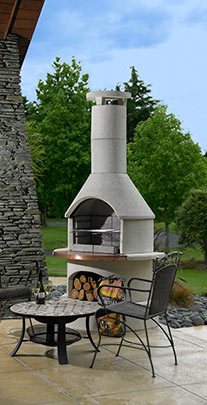 Not only is the Buschbeck St Moritz a brilliant barbecue but it is also a fantastic natural fuel fireplace/patio heater. For cooking, the St Moritz has four adjustable cooking heights and comes with a heavy duty chrome grill with plenty of space to grill on.
Buschbeck is the only brand of masonry barbecue to achieve the very stringent German TUV/GS safety standard allowing your St Mortiz barbecue to last for many years to come. As far as maintenance goes there is little or nothing to do. If the barbecue's appearance becomes a little "weathered", simply use a water blaster or a hose and brush to clean it down!
Specifications
Dimensions: H 203cm x W 110cm x D 65cm
Weight: Approx. 440kg
Colour: White & Brown granite with a real copper insert within the mantelpiece
Cooking Dimensions: 54cm x 34cm
Fuels: Burns charcoal (briquettes or lump-wood) & logs or firewood
Assembly Time: 2-3 people approx 60 mins
Accessories Included: Heavy duty chrome cooking grill