Even if your balcony is only the size of your walk-in robe, don't despair!  Here are some helpful hints to achieving a dream balcony garden
1. Make your balcony garden an extension of your indoor space   A balcony garden has the greatest impact when it is an extension of your indoor space. Think of it as a place to sit and enjoy some time in the sun with a coffee and watch the world go by.  Smaller spaces will require you to think efficiently and creatively.  Check our storage and seating category for some great ideas.
2. Consider the aspect of your balcony   A balcony, particularly on high-rise buildings, will be affected by wind.  If you have a sea view, the wind will be salty.  These factors can mean damage to both pots and plants.  Be realistic about how exposed and windy your balcony is and plant in heavy pots or use vertical gardens, and prepare for those freak storms.  Plant low, mound forming plants and mass several together to create a lush look.  You will need to water the plants regularly to make up for the drying wind.
For east and south facing balcony gardens, or balconies that are heavily shaded by the floor above, go for shade plants like hydrangeas and camellias.  For a west facing balcony garden, choose heat and sun tolerant plants, as this aspect cops the scorching afternoon sun in summer.  The dwarf bougainvillea or succulents are ideal.  For north and north-east aspects your balcony garden will be sun-drenched for most of the day and, if it's sheltered from the wind, herbs and vegetables and flowering annuals will thrive!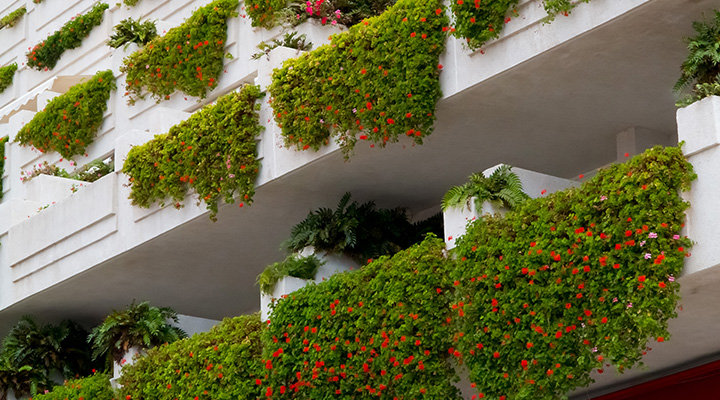 3. Start with a small base of evergreens   This will give you a garden all year round, then add seasonal plants for variety.  Gardening requires maintenance and a balcony garden is no different.  Choose plants that require minimal upkeep to start with, then get creative!
4. Design with colour   Use no more than three colours, with green as a given.  Make the garden interesting by growing plants in different tones or textures of the colours you choose.  Don't upstage your garden with the pots; by keeping them all the same colour, the base view will be calm.
5. Check what load your balcony will bear    It's always wise to have a structural engineer check what weight your balcony can support.  Aesthetically, the bigger proportions of bigger pots look better, and as they hold more soil plants are less stressed giving them better chance of healthy growth, but they become very heavy when filled with wet soil.  Keep heavy items around the perimeter of your garden balcony, as the weakest point will be in the middle.
Take a leaf from Australia's best known eco-garden designer Joost Bakker and create a low-water style of vertical balcony garden.  There are lots of vertical garden systems around these days, and with a little careful planning  you can create amazing space which will definitely impress your visitors.  The City of Sydney 'Green Villages' program has a great inspirational guide to creating a balcony garden.