Description
A High Quality Carport – made to last.
Aesthetically elegant, the ARCADIA ALPINE structure is sturdy, durable and maintenance-free, being manufactured from rust resistant powdercoated aluminium and steel and roofed with virtually unbreakable UV-stabilised polycarbonate Twinwall sheet. Supplied in easy to assemble kit form, the ARCADIA ALPINE range is engineered to be constructed without the need for special building skills and using ordinary household tools. The sturdy 8cm x 8cm support posts are adjustable, allowing you to choose from two optional heights (central external height of 307cm or 352cm). Each panel is shatter resistant and has been pre-cut ready for installation so you can simply slide the panels in place.
A 10 year limited warranty is standard on CANOPIA – PALRAM's Alpine range, beware of competing products with only a short, 12 month warranty, ours are built to last! Cheaper units are only built to last for 1-2 years, within that time their roof will break down, crack and yellow in the harsh Australian sun, our CANOPIA – PALRAM brand will not! The ARCADIA ALPINE range from CANOPIA – PALRAM is a stylish, sturdy and low-maintenance DIY unit.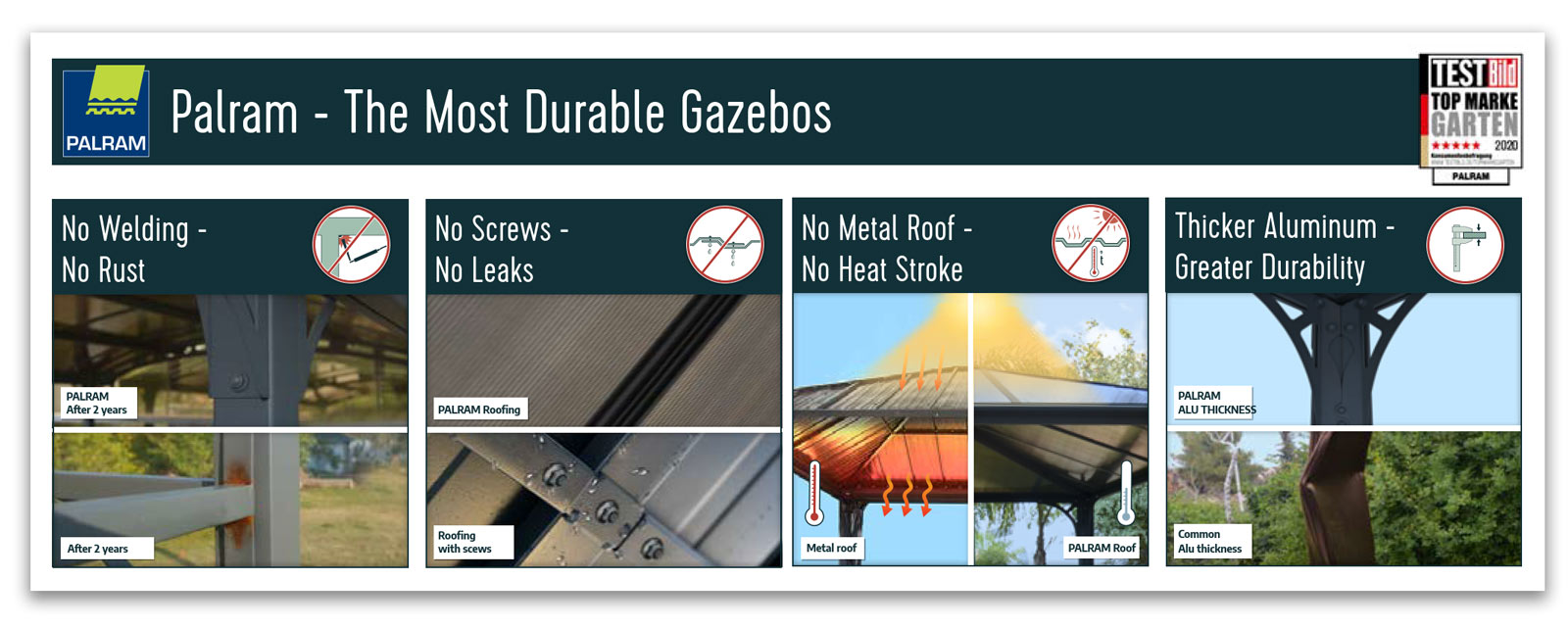 FEATURING – Super seal roofing system: Provides great sealing performance under severe weather conditions and prevents thermal expansion damage to the panels. One of the main issues with multi-wall panels is dust and moisture penetration into the internal voids. The problem is magnified especially when dealing with transparent or translucent panels. There are two common ways to solve the issue used on inferior gazebos: 1. Different kinds of covering tapes with limited adhesive strength and life span. 2. Crumpling the sheet edge but thus preventing the use of any capping Aluminum profile, ours do not suffer from these problems. ARCADIA Gazebo features include:
Roof colour, BRONZE.
Dimensions: 3620mm wide x 6440mm long x 3070mm to 3520mm high
Adjustable posts – allowing tall caravans or motorhomes to fit underneath
Wide and high entrance for safe and easy access
All frame members powdercoated ANTHRACITE GREY colour
Roof glazing virtually unbreakable 6.00mm Twinwall UV-stabilised polycarbonate
Integrated gutter system for rainwater collection
Easy to assemble kit – 2 persons required but no special tools
Maintenance-free – resists rust, rot and peeling
Sturdy, anti-rust aluminum structure offering ample shading
Specially engineered to withstand harsh weather conditions
The architecture allows easy access and car parking
Maintenance-free, built to last thanks to outstandingly durable materials
Made with 100% recyclable materials
Wind resistance – 120km/hr
Snow load – 150kg/m²
Light Transmission – 15%
10 year warranty