Description
The Keter Artisan 97 is 9 ft x 7 ft (2.18 m. depth x 2.78 m wide) This shed is supremely durable and stylish. It has a weather-resistant double skin wall built with steel reinforcement, a heavy-duty floor for storing even major items, and a robust ceiling. Design-wise, it has an attractive rustic chic style thanks to its unique paintable DUOTECH walls with a weathered wooden texture, crystal clear windows, a skylight, and double doors.
External Dimensions: 2.18m d x 2.78m w x 2.26m h

Doors can go on either left or right side

Contemporary design with clean line and crystal clear windows

Durable construction with steel reinforcement makes this durable shed worry-free, and weather resistance keeps it low maintenance
The innovative DUOTECH walls provide a gorgeous weathered wooden texture with all the durability of resin
DUOTECH walls are also easily paintable, making it easy to customise for the look you would like
Easy to assemble thanks to its precut tongue and groove panels
Wide double doors provide easy access
Heavy-duty floor makes it ideal for storing especially heavy items
Steel bar reinforcement for snow load up to 200 kg/sqm (40 PSF)
Innovative DUOTECH™ walls with steel reinforcements
Rustic wood-like texture
Paintable and drillable
Double doors
Windows
High ceiling
Heavy-duty floor
Ultra-robust roof supports snow loads of up to 200 kg/sqm
Locking system (lock not included)
EASY INSTALLATION: Installation is very easy thanks to its interlocking panels. Estimated assembly time: approximately 1/2 day for 2 people. STRONG & DURABLE DESIGN: Thick walls (double thickness 20 mm) Metal reinforcements for the roof and walls. Material treated against UV-rays = No discoloration. Will not deform. No maintenance required: Simply rinse it with water on occasion to keep the dust away. Overall dimensions (including roof overhangs):
Usable interior surface: 5.25 m²
Internal measurements: 2.64m W x 2.01m D x 2.19m H
Door width: 1,388 m, door height: 1.81 m
Total height to the roof ridge: 2.26 m
Wall height: 2.20 m
Pack Size: 2270w x 1320d x 300h mm
Artisan 97 Shed Painting Instructions
The DUOTECH range are the only resin sheds you can paint. This maintenance-free resin shed made of a unique compound which enables the wall-panels to be painted. The shed can be used in its original color, or the walls can be painted to match your landscape, deck, patio, or outdoor setting.
Type of paint: The walls of the shed can be painted with a water-based acrylic paint for exterior use.
Recommended: Solid, light shades, satin or semi-gloss finish. Consult with your color consultant or paint professional when choosing paint.
Application: Use a roller to apply the paint on the wall surface. Do not paint the crevices, gaps in the wall panels.
Keep in mind: Painting requires maintenance. After some time, repainting may be required.

The advantages of the Keter Duotech system: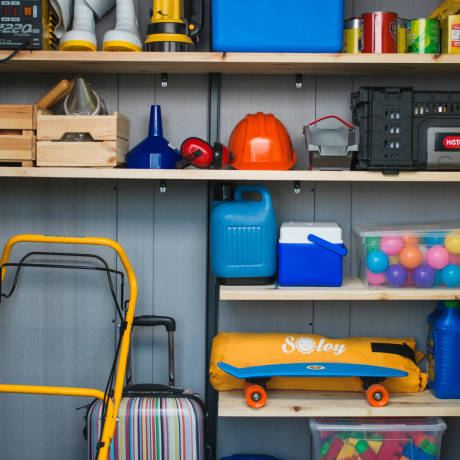 KETER DUOTECH™ is - Easy to Modify
While DUOTECH™ sheds come storage-ready, the material can also be easily modified, allowing you to create a truly personalized space. You can paint it, hang on it, drill on it, and cut it!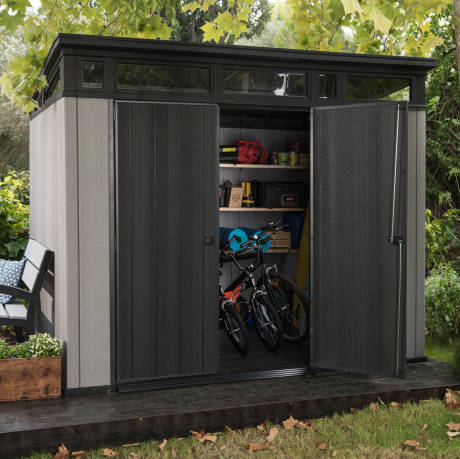 KETER DUOTECH™ is - Rigidity & Strength
DUOTECH™ products are engineered for strength and durability to ensure they can withstand anything the outdoors can unleash. The double wall construction and steel reinforcements help DUOTECH™ sheds remain uncompromised and keep your belongings protected.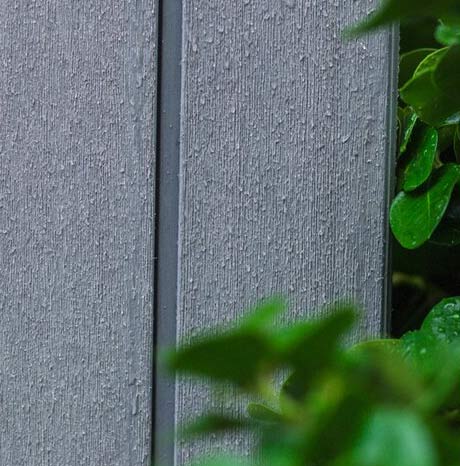 KETER DUOTECH™ is - Natural Look & Feel
DUOTECH™ sheds are unparalleled in function, yet they're also designed to beautify any outdoor space. Either left as is or customized to your liking, your DUOTECH™ product will bring an easy elegance to your yard or garden with its classic look and feel.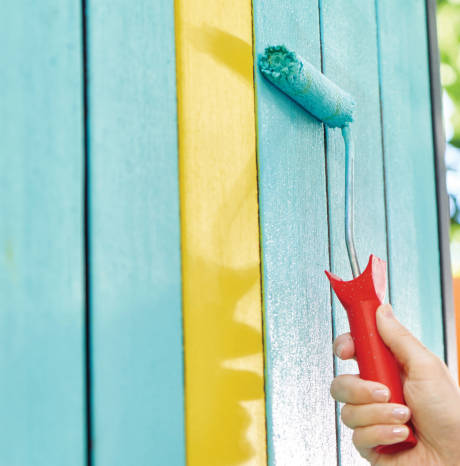 KETER DUOTECH™ is - Easy to Customise
DUOTECH™ panels are gorgeous as they come, but they're also made to feature your favorite shades of paint. Add a shade that matches your house, landscape or outdoor area, or brighten things up with the perfect pop of color.