Description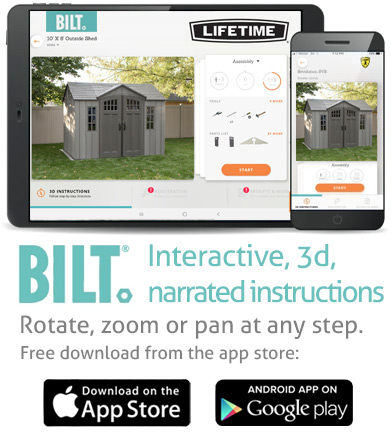 New stock arriving start of Jan 2024, preorders available now.
Decluttering your garage and maintaining your yard can be a challenging job. Between all the tools for the upkeep of your yard and the different objects taking up valuable space in your garage, you need the right solution to keep everything organized. The Lifetime Tool Store is a mid-sized storage solution for households in need of extra storage space. It is large enough for residential garbage containers, lawn mowers, and bikes, but also equipped with shelving and removable wall hooks for smaller items such hand tools, power cords, shovels, and rakes. The double-hinged doors fully open making it convenient to move items in and out of the shed. The slider lock and deadbolts (lock not included) allow you to keep your belongings safe and secure. The wood grain texture and Rough Cut™ finish offers a stylish look and feel without the maintenance of wood. With the Lifetime Tool Store, you can free up valuable space in your garage and keep outdoor equipment organized.
2 FREE bonus items: 1 x full width shelf (350mm deep), and 6 wall hooks
Constructed from dual-wall UV-stabilised high-density polyethylene (HDPE) with steel reinforcing members, this shed is designed for durability and very low maintenance.  The double doors have strong hinges and are lockable. The black HDPE floor is slip resistant and resistant to oils, solvents and stains.
Door Opening Dimensions 151,5 cm x 166,5 cm
Exterior Dimensions 1,93 m x 1,10 m x 1,77 m
Exterior Roof Dimensions 1,92 m x 1,10 m
Footprint 1,90 m x 1,07 m
Interior Dimensions 1,80 m x 0,99 m x 1,71 m
Weight 78.8 kg
UV-protected to help prevent fading and cracking, stain-resistant exterior never needs painting
High-impact door handles with metal latch, slider latch locking system with padlock loops (lock not included)
Height adjustable shelving system
Steel reinforced doors with full height metal hinge
Double-hinged doors open 180 degrees
Heavy duty floor panel is an integral part of the structure – a level, firm base essential but no concrete slab needed
Easy to assemble with common household tools
Comprehensive and easy to understand assembly instructions, with "BILT" assembly app available
Will not rust, warp or dent – virtually maintenance-free
10-year limited warranty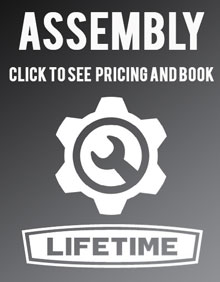 Made from HDPE: Environmentally aware, Lifetime's manufacturing process embraces recyclable High Density Polyethylene, using a resin that can be re-formed into alternative products when the time comes to replace.
Revolutionary, HDPE, an innovative polyethylene plastic that incorporates strengtheners to fortify the composition against cracking during winter's freezing conditions with a UV stabilisation to defend against the heat of the suns rays fracturing & bleaching the surface.
Robustly designed to prevent dents appearing, the construction is formed by combining two walls or skins. The inner side comprises an arrangement of resin ridges to provide substantial bracing with the outer skin meanwhile giving the simulation of a wood paneled building embossed with ornate wood-grain details and is crafted by state-of-the-art blow molding procedures.
Each wall panel interlinks with adjoining panels and locks into the floor then abutting underneath the roof structure to eliminate rainwater leaks at the wall-roof connection. High grade steel screws secure the panels to the shed's steel framework resulting in a sturdy overall construction.
High Density Polyethylene is impermeable to damp, icy conditions, rainfall and the effect of the sun. Unaffected by rot, this imperishable resin eliminates maintenance, it's not designed for painting nor varnishing. Cleaning merely involves undertaking the odd wash, a pressure blaster makes short work of the job.