Description
The ACERMAX HD3030 HEAVY DUTY GARDEN SHED available from Landera is a premium, fully-framed Colour garden storage shed – a world away from ordinary garden sheds in strength and quality. It is supplied as a complete easy to assemble kit with all fasteners and anchors and features galvanised RHS and purlin framing, high-tensile SIX-RIB® Colour wall and roof cladding, RHS framed door with lock set and guttering. If you are looking for a quality garden shed, this is it! These sheds are also used in commercial applications as plantroom and pump sheds so you know you can depend on the quality.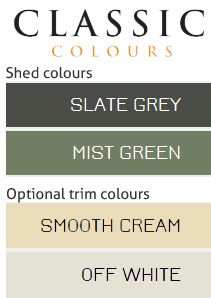 DELIVERY: Free delivery is available to Adelaide, Melbourne, Sydney and Hobart metro areas. Please contact us for delivery prices outside those areas.
The ACERMAX HD3030 HEAVY DUTY GARDEN SHED is manufactured in Australia, and is constructed using 50 x 50mm galvanised RHS portal frames which are connected with special notched and press formed galvanised steel purlins. The SIX-RIB® Color roof and wall cladding is pre-cut to length and angle so that no cutting on site is required. The unit is designed to be installed on a concrete base or timber floor dimensioned at 3000 x 3000mm; the bottom frame member allows the wall cladding to extend 50mm below the surface of the floor to ensure excellent weatherproofing. Typically time required for assembly is about 4 hours.
Available standard in either MIST GREEN (PALE EUCALYPT) or SLATE GREY (MONUMENT), the ACERMAX HD3030 HEAVY DUTY GARDEN SHED can also be supplied in a range of other colours – please drop us a message or call us on 1300 651 671 to enquire. The ACERMAX HD3030 can be supplied with contrasting Colorbond trims (ridge, barge and corner flashings and gutters) in either OFF WHITE (SURFMIST) or SMOOTH CREAM (CLASSIC CREAM) at no additional cost. Non-standard colours are slightly more expensive and typically are supplied on a 3 – 4 week lead time.
ACERMAX HD3030 HEAVY DUTY GARDEN SHED features include:
Dimensions: 3000mm Wide x 3000mm Deep x 2400mm High at peak of gable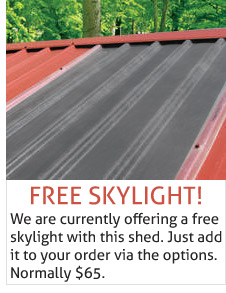 Minimum wall height 2100mm
50 x 50mm Galvanised RHS portal end frames pre-cut to length and angle and supplied with internal sleeve joiners
Strong 0.47mm TCT Six-Rib® cladding
Galvanised 1.2mm thick press formed purlins cut to length and notched
Single RHS framed door (840mm opening) with Colorbond face panel and lock set.
Available in MIST GREEN or SLATE GREY standard – other colours available on request
Optional OFF WHITE or SMOOTH CREAM trims and gutters at no extra cost
Fully engineered design
All fasteners and anchors supplied
Full step by step illustrated installation instructions supplied
10 year warranty
Quality finish
FREE Delivery to your address available