Description
Discount available via refund on this item, for a product review. Select this option via the drop downs.

Are you looking for a large storage unit suitable for several bikes or 3 wheelie bins? The Keter Grande Store is a state-of-the-art storage solution that combines rustic style and durability. Its huge size, the biggest of its type in the Keter range, make it the obvious choice when you need extra space. Made with ultra-rugged DUOTECH™ walls, it will withstand any weather conditions and will maintain its appearance intact without requiring maintenance. The walls are also paintable, so you can customise the unit match your home and backyard. This shed offers the perfect storage solution for three 240L wheelie bins, two adult and two children's bikes, or gardening tools. Check the internal and external dimensions we have listed below. This storage unit also comes with a sloping threshold, locking system, built-in ventilation and adjustable brackets to install an extra shelf. Made of durable and hardwearing resin, and with rib-reinforced wall panels and steel reinforcement for greater strength and rigidity, it is virtually weather-proof and fade-free.
Easy to open lid thanks to the hydraulic piston system, just give it a push up and it opens by itself

All-weather construction with steel reinforcements, RAINPROOF and very UV RESISTANT

Sloped threshold to easily roll heavier items in or out

Heavy duty floor, with sloped threshold for easy wheeling in and out of bins
Stainless steel door locking mechanism, plus padlock facility for added peace of mind

Lid-to-lid chains for hands free bin opening, with a bag in each hand you can open and deposit your rubbish easily!

Virtually maintenance free – just an occasional wash needed to keep looking like new

Built-in ventilation keeps the contents dry and ventilated

A wooden shelf can be installed using the included adjustable brackets to expand the storage options

Paintable DUOTECH™ walls make customization easy
Dimensions:
2020 litre volume
w 190.5 cm External 178.5 cm Internal
d 109.3 cm External 94.0 cm Internal
h 132.5 cm External 123.6 cm Internal
360 degree view, drag to rotate: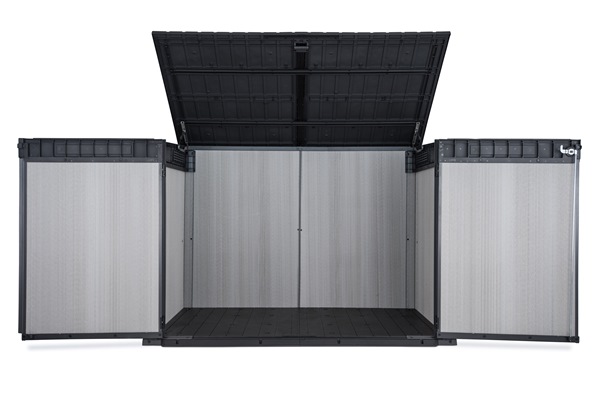 Note, the following details apply to this product and its delivery.
---
We send a tracking number for all deliveries by email, it will take 1-3 business days to get your tracking email generally.
If delivery is by Mainfreight, they will call to arrange a weekday delivery with you. A working phone number is essential and please check your messages if you have a missed call.
Someone will need to be present on the day to sign for the goods and potentially assist the driver. Generally, deliveries will be next to the truck, so wherever the truck has access to is where your item will be dropped off. The driver generally cannot move items into backyards or your home due to OHS regulations. If the truck cannot get into the driveway (no driveway, too narrow, too steep), the only option may be to unload on the nature strip.
If your delivery included polystyrene, cardboard, pallet etc, it is the customers responsibility to dispose of these. This also applies to damaged parts, if, on the rare occasion, we need to send a replacement part we do not retrieve the damaged one.
If an item arrives with damaged parts (rare but it can happen in transit sometimes) replacement parts will be sent, not a brand new item.
Returns, yes we do offer returns, the return postage is paid for by the customer, we also have the right to claim the cost of freight that we incurred to send the item to you. If returning an item because of a damaged part, the cost to return the item would be paid for by the customer, as outlined under consumer law, opting not to accept a replacement part to fix a damaged product means the consumer covers return freight costs if they want to return and refund. Goods must be received in their original packaging and fit for resale.