Description
The SPRUCE STUDIO is designed to be an attractive addition to any property as well as providing a functional, long-lasting outdoor work space or living space. The SPRUCE STUDIO features a Colorbond gable roof with overhanging eaves, colonial style door with tinted acrylic glazing and a locking T-handle. Twin Opening Windows are supplied as a standard feature. The wall panels consist of a 3 layer, "sandwiched" panel system – cedar then foil then hardwood ply with treated pine framing. This improves strength, insulation against moisture / heat plus gives a smooth surface on the inside of the studio making it easier to paint.
Options including extra windows, extra doors, deck plus annex roof, as well as a full flooring kit are available. Talk to us about providing installation also.
Our CEDAR STUDIO range is manufactured in Australia, and is constructed using 42 x 35mm termite resistant pine framing and 18mm thick Canadian Western Red Cedar VJ cladding with a Colorbond steel roof. The SPRUCE is supplied in an easy to assemble kit with pre-made panels. The panels come in raw timber (not stained or painted) allowing you to select the finish of your choice. Check the bottom of this page for more cedar coating information.
Typically time required for assembly is about 8 to 10 hours, excluding the floor. The unit can be sited on a concrete base or paved area, or a flooring kit can be used. Assembly is quite straightforward – the first step is to choose a nice level site in your yard. The floor is a base constructed either using a recommended HD floor or by laying a concrete slab. If the site is out of level the heavy duty floor kit will work well, this has been specifically designed to reduce site works where the ground is not level. Once the floor is in position the next step is to erect the pre-made walls. Starting at the front corner, the panels are joined and gables fastened into position. The roof is then assembled on the ground, lifted into position and fastened to the walls. Next the hinges are attached to the door, the door fastened to the wall and the door handle installed. Finally, the corner posts, cover strips, fascias and the ridge capping are attached to complete the product.
The SPRUCE STUDIO is supplied standard without a floor. A Heavy Duty Floor Kit is available as an optional extra, this includes tough, Yellow Tongue flooring sheets as the finished surface. The Heavy Duty Floor Kit provides for installation without the need for a prepared base such as a concrete slab or paved area.
The SPRUCE STUDIO features include:
Dimensions: 3132mm Wide x 4848mm Deep x 2600mm High (add 140mm for HD floor kit)
Single colonial style glazed door
Colorbond 'MONUMENT' roof panels
Two Windows, 630mm opening with tinted acrylic glazing included standard
Termite resistant pine 42mm x 35mm framing
Wind rating: W33 / N2 – 33m sec = 118 kmh winds
Canadian Western Red Cedar 18mm thick VJ cladding
Pre-assembled panels for quick and easy assembly
Heavy Duty Floor Kit available as optional extra
10 year warranty
Delivery to your address available

NOTE: WA, Qld, Vic and SA buyers, please check with your council before purchase, this studio is over 10 square metres. 
List of dimensions:
Internal Dimensions: 3000 x 4716 x 2575 Front x Side x Height (mm)
External of Frame Dimensions: (Concrete Slab Size) 3084 x 4800 Front x Side (mm) (making slab smaller than cladding size gives a rebate, this allows rain to run off walls and not enter the studio)
External Cladding Dimensions:  3132 x 4848 Front x Side (mm)
External Roof Dimensions: 3432 x 3368 x 2725 Front x Side x Peak Height (mm)
Door Opening Dimensions: 1850 x 840 Height x Width (mm)
Wall Height: 2020mm
Cedar can be left bare, to naturally weather to a grey colour or coated in a range of oils or stains. Using a coating will give the UV protection needed to prevent fading or greying of the timber. We have applied 6 commonly used products to a test panel, shown on the right. We have a second photo, below, showing how the different treatments weather over time. We did one row with a single coat for all the products, this will give an idea of how things will look after they fade a little and some may even choose to do one coating.
Initial coating is best done with the panels on the ground, prior to assembly. This makes the job much quicker and easier. The best tool is a heavy nap roller with a long handle attachment. All products will require recoating after a time, typically 3-5 years.
We don't endorse any of the products tested but we do have some opinions: The clear coat from Dulux Intergrain, does look very nice initially but we have had feedback that is doesn't protect the underlying colour as time goes on and it can flake. One of our favourite colours is the Ultradeck Light Oak option, again from Dulux Intergrain, some of our shed/studio photos have been done with this stain.
Stains will change the colour of the natural cedar but they do preserve well, the underlying grain/pattern of the timber, the grain is one of the features of cedar, its patterns are much more pronounced than pine or other styles of cladding.
Painting is an option many customers have chosen also, you will lose the natural look of timber but colour choice and long term protection are the benefits with paint. Because of cedar's large pores, it is necessary to prime the wood before painting it also. Any acrylic paint will work, talk to your paint supplier about what they recommend.
A two tone paintjob looks best with the doors/windows a different colour to the walls.
Unprotected cedar will fade to a grey colour fairly quickly, within a year or so. It will still last a long time, but will eventually decay one day. The weathering penetrates to about 2mm fairly quickly but then slows dramatically. Cedar deteriorates slowly due to the natural oils it contains: cedrine, cedrol, and thujopsene. These have many natural benefits from termite and bug repelling to medicinal properties to treat things like fungus.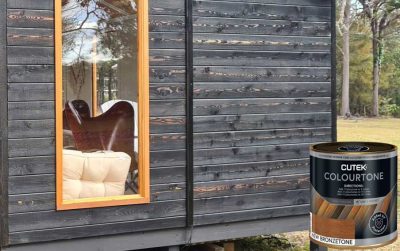 We recently coated a cedar studio in a dark stain called Black Ash, by Cutek. There are several photos of this on the Pioneer 20x10 studio page. This is a high quality product that is available at many paint suppliers Australia wide. It provides a great contrast on cedar timber due to the rich grain. Image on the right shows the Black Ash on our cedar studio Pioneer.
Do I need to stain/paint my cedar studio?
We would recommend staining or painting your cedar studio to maintain its fresh looks. Not doing so however, will not comprise the studio's durability but you will start to see the cedar weathering over time to a silvery grey colour, if left uncoated. We have a full write-up on each studio page that expands to show a lot more info on cedar coatings.
What do I coat my cedar studio with?
If you are painting your cedar studio to match the colour of your house we would recommend undercoating it with an oil based primer. If you are staining your studio we recommend Intergrain Ultra deck Timber Stain in Light Oak colour which is available from most major hardware stores or paints stores.
Can I change the colour of the roof?
Yes, however there is an additional cost. If the standard monument roof colour does not suit you, you can choose a colour that does from our list of options.
Do I need a concrete slab?
We recommend purchasing the heavy duty floor kit if you do not have an existing slab. If you don't have an existing slab the heavy duty floor will save you employing any expensive contractors to do earth works or lay concrete slabs. The heavy duty floor kit comes with a 140x35mm h3 pine base suspended on 750mm h4 posts that sit in the ground. The heavy duty floor kit is ideal if your ground is uneven. If your ground is very out of level, you may need longer posts, if this is the case give us a call to discuss your needs or let us know in the comments when you order.
How do I fix my shed to a concrete slab?
Use 1 concrete anchor per panel join, fix through the panel base plate into the slab.
Are the studios easy to assemble?
Our cedar studio kits are a very enjoyable DIY experience for those with a little hands-on experience. The kit comes as a flat-pack of pre-made panels and timber parts that can be screwed together and installed easily with the guidance of our  instruction manuals and install videos available online. However, if needed any local handy-person can assemble these. Places like www.airtasker.com.au are a good way to find someone. We do also know of some installers in the capital cities.
Does it matter if my site is not level?
No, the heavy duty floor is going to be the most efficient and affordable base for your shed and comes with posts to level it up. If your ground is very out of level, please give us a call (see number at bottom of page) to discuss your needs or let us know what you need in the comments on your order.
Are termites a problem and if so will the warranty cover this?
We are 99.9% certain your studio will never be attacked by termites. All framing used is treated pine and the cedar is naturally termite resistant. If you ever have issues with termites attacking your studio this is all covered by our 10 year warranty.
If I order today, when can I expect my studio to arrive?
Please check the freight tab on the product page for current lead times and further details on delivery.
What happens if my studio arrives damaged in transit or missing parts?
In the rare and unfortunate circumstance that this happens, send us a quick email with your order number, a photo of the damaged parts or a list of the missing parts and we will have replacement parts dispatched in most cased within one business day or if there is further clarification needed it could take 2. These issues take priority over any other enquiry and are acted on promptly.
Western Red Cedar is highly durable and dimensionally stable, making it ideal for a wooden garden shed or studio. It has an excellent insulation value – the highest of commonly used softwoods. It is classified as 'very resistant to decay' and is rated alongside Australian timbers such as Jarrah and Red Gum in terms of durability. Inground stake tests in northern Queensland have indicated that it has a very high resistance to termite attack. Its dimensional stability reflects in the minimal movement and distortion caused by changing moisture content of the air – in fact, it has the best stability rating of any commercially used timber in Australia.
Western Red Cedar is an excellent choice for cladding of timber buildings. Classified as a softwood, Western Red Cedar is the lightest timber commonly used commercially. Its low density rating gives it an excellent insulation value. Its colouring ranges from a light straw colour through to warm reddish or dark brown. Importantly, Western Red Cedar exhibits good long term performance in demanding environmental conditions.
Western Red Cedar (Thuja Plicata) grows on the west coast of Canada in British Columbia, and in the coastal area of Washington State in USA, where it reaches heights of 45 - 60 metres. Although it is not botanically related to the Californian Redwood, it does have many similar properties. The Redwood however is much more expensive and would not normally be used for external cladding in Australia.
The harvesting of Western Red Cedar in British Columbia is closely controlled and monitored. Much of the Cedar growing along the coastal region is actually in parks and protected areas, and consequently is not commercially accessible. There are areas designated as "working forests" from which the timber is taken, and this, along with "second growth" timber which is coming on stream contributes to the approximately 6 million cubic metres harvested annually. This amount has been determined to be sustainable in the long term.
Gallery
Browse a selection of our studio images below. The images are of various studio sizes and may include options not supplied with the studio you are purchasing such as additional windows, floor coverings, paint etc.