Description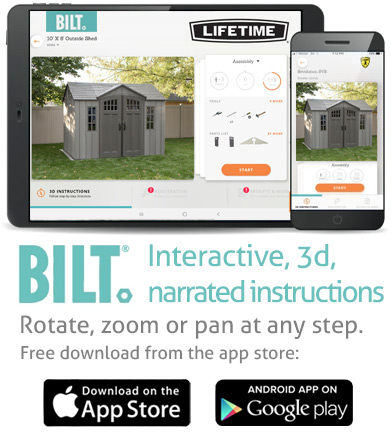 Lifetime's 8 foot by 10 foot Rough Cut™ Shed is a stylish storage solution that is strong, secure, and easy to maintain. The Rough Cut™ Texture has the natural look and feel of wood without the maintenance of painting or staining. This shed is made in the U.S.A. – you can be confidant in the quality and features of an American made product. The moulded woodgrain wall panels and simulated shingle roof ensure that it is an attractive addition to your property as well as a solution to your storage needs. With various features including shatter proof windows, screened vents, skylights, height-adjustable shelving, and much more, a Lifetime Shed is the perfect addition to your backyard.
2 FREE bonus items: 1 x full depth shelf (220mm wide), and 6 wall hooks (no corner shelves, available as an option)
Constructed from dual-wall UV-stabilised high-density polyethylene (HDPE) with steel reinforcing members, the LIFETIME 8 x 10 plastic shed is designed for durability and very low maintenance.  The steeply pitched roof offers excellent storage space and quick drainage of rainwater, and features heavy-duty steel trusses for additional strength. The skylights and window provide excellent interior lighting. The double doors have full-length steel hinges and are lockable. The black HDPE floor is slip resistant and resistant to oils, solvents and stains.
LIFETIME 8 x 10 PLASTIC GARDEN SHED features include:
Exterior Dimensions: 2.44 m W x 3.04 m L x 2.41 m H
Exterior Roof Dimensions: 2.44 m x 3.04 m
Interior Wall Dimensions: 2.9 m W x 2.29 m L x 1.81 m H
Door Opening Dimensions: 142.8 cm x 192.2 cm
Eave Depth: 4.8 cm
Fascia Height: 3.1 cm
Footprint: 2.37 m x 3.00
Interior Headroom: 2.03 m (truss to floor)
Max Wind Resistance: 105 kph
Cubic M: 12.08 m³
Square M: 6.66 m²
Windows One Polycarbonate Window – Open Half-Way
Weight 180 KG (contained in 2 boxes)
Colour: Storm Dust with "Rough Cut" timber texture
High-impact door handles with metal latch
Exterior padlock loop for locking doors
Screened ventilation panels
Heavy duty floor panel is an integral part of the structure – a level, firm base essential but no concrete slab needed
Steel reinforced dual-wall polyethylene wall panels
Easy to assemble with common household tools
Comprehensive and easy to understand assembly instructions
Will not rust, warp or dent – virtually maintenance-free
10-year limited warranty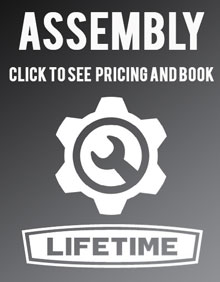 HDPE: Environmentally aware, Lifetime's manufacturing process embraces recyclable High Density Polyethylene, using a resin that can be re-formed into alternative products when the time comes to replace.
Revolutionary, HDPE, an innovative polyethylene plastic that incorporates strengtheners to fortify the composition against cracking during winter's freezing conditions with a UV stabilisation to defend against the heat of the suns rays fracturing & bleaching the surface.
Robustly designed to prevent dents appearing, the construction is formed by combining two walls or skins. The inner side comprises an arrangement of resin ridges to provide substantial bracing with the outer skin meanwhile giving the simulation of a wood paneled building embossed with ornate wood-grain details radiating a desert-sand tinge and is crafted by state-of-the-art blow molding procedures.
Each wall panel interlinks with adjoining panels and locks into the floor then abutting underneath the roof structure to eliminate rainwater leaks at the wall-roof connection. High grade steel screws secure the panels to the shed's steel framework resulting in a sturdy overall construction.
High Density Polyethylene is impermeable to damp, icy conditions, rainfall and the effect of the sun. Unaffected by rot, this imperishable resin eliminates maintenance, it's not designed for painting nor varnishing. Cleaning merely involves undertaking the odd wash, a pressure blaster makes short work of the job.
Looking for an easy slab option? Video below shows how to do a simple slab using a timber frame and bags of concrete. A slab is not required but is a great way to ensure your shed has a flat, stable base.
Some tips: Compress the dry cement before adding water - Wet the soil beforehand and continue to wet the surrounding soil during curing - Dig a small trench around the perimeter if erosion or crumbling of the edge is a concern - Use your surrounding formwork to create a level slab - Wait 1-2 hours after first misting, then apply more water via shower setting every 1-3 hours - Keep applying water for a few days to assist in curing