Description
FREE delivery for Sydney metro and ACT only.
Large enough for three 240 L wheelie bins. Confirm your bin measurements against the internal sizes listed below.
Made in the USA, the LIFETIME YARD STORE is an extra large cabinet designed for outdoor storage of wheelie bins, tools, barbeques, sports equipment, firewood, etc. Manufactured from high-density polyethylene (HDPE) in a rigid, double wall construction, the LIFETIME YARD STORE is strong, durable and sturdy. HDPE is ideally suited to outdoor applications, being UV stable and able to withstand extremes of temperature. Attractive Exterior, fully UV protected to help prevent fading and cracking. Stain-resistant exterior doesnt need painting, simply hose any dust off for an annual clean. Steel-Reinforced Walls – designed with dual-wall high-density polyethylene (HDPE) panels with steel wall supports for added strength.
The LIFETIME YARD STORE is supplied in kit form with comprehensive instructions. The opening lid and the double door opening front panel give excellent access to the interior of this attractively styled outdoor storage cabinet.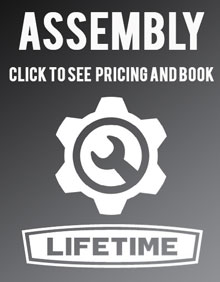 LIFETIME YARD STORE features include:
EXTERNAL: 1910mm Wide x 1073mm Deep x 1320mm High
INTERNAL: 1810mm Wide x 978mm Deep x 1226mm High (Rear) / 1080mm High (Front)
Capacity – 2.12 cubic metres
Rigid double-wall HDPE construction
Attractive design
Controlled spring hinge lid, weather resistant steel hinges
Lockable lid and doors
5 year warranty
Made in USA
Note, the following details apply to this product and its delivery.
---
We send a tracking number for all deliveries by email, it will take 1-3 business days to get your tracking email generally.
If delivery is by Mainfreight, they will call to arrange a weekday delivery with you. A working phone number is essential and please check your messages if you have a missed call.
Someone will need to be present on the day to sign for the goods and potentially assist the driver. Generally, deliveries will be next to the truck, so wherever the truck has access to is where your item will be dropped off. The driver generally cannot move items into backyards or your home due to OHS regulations. If the truck cannot get into the driveway (no driveway, too narrow, too steep), the only option may be to unload on the nature strip.
If your delivery included polystyrene, cardboard, pallet etc, it is the customers responsibility to dispose of these. This also applies to damaged parts, if, on the rare occasion, we need to send a replacement part we do not retrieve the damaged one.
If an item arrives with damaged parts (rare but it can happen in transit sometimes) replacement parts will be sent, not a brand new item.
Returns, yes we do offer returns, the return postage is paid for by the customer, we also have the right to claim the cost of freight that we incurred to send the item to you. If returning an item because of a damaged part, the cost to return the item would be paid for by the customer, as outlined under consumer law, opting not to accept a replacement part to fix a damaged product means the consumer covers return freight costs if they want to return and refund. Goods must be received in their original packaging and fit for resale.