Description
Organize all your garden tools and outdoor accessories in a secure, dry environment with the Keter Elite Store Horizontal Storage Shed. Constructed of weather-resistant resin, this shed features one-of-a-kind DOUTECH panels, which have a textured, wooden look and can be painted to match your home or outdoor living space. Strong and durable, this shed boasts reinforced double-wall panels and will not rush, dent or peel. It is easy to assemble with its tongue and groove panels. The double doors have chrome hinges and a lockable metal handle to ensure smooth operation and security.
Exterior Dimensions: 141cm w x 82cm d x 124cm h
Internal dimensions: 133cm w x 75cm d x 112cm h
Storage capacity: 1.13 cu. m
Weight: 37kg
Grey in colour, walls can be painted
Includes a floor, floor can be modified to allow for plumbing of pool pumps etc
Keter combines innovative technology, smart engineering and distinctive materials so you can enjoy a whole new level of durability, functionality and appearance in your shed
Natural look and feel: DUOTECH panels are designed to have the look and feel of weathered natural wood with all the durability of a resin construction
Rigidity and strength: engineered for strength with rib-reinforced double DUOTECH wall panels
Maintenance-free: DUOTECH panels are weather-proof and guard against rust, decay, peeling and fading, eliminating any need for upkeep
Hassle-free assembly: shed comes with all parts needed, DUOTECH wall panels, sloped flooring panel and double doors with heavy-duty 105 carpenters hinges
Easily customized: while the shed comes storage-ready, it's DUOTECH panels can be easily modified with your favorite shades of paint to matches your outdoor space
Includes: adjustable brackets which can be used to install 2-extra shelves (shelves not included) and lockable handle (lock not included)
Recommendation: level the ground surface for easier assembly and reliable operation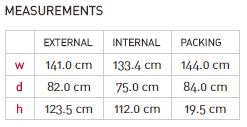 Note, the following details apply to this product and its delivery.
---
We send a tracking number for all deliveries by email, it will take 1-3 business days to get your tracking email generally.
If delivery is by Mainfreight, they will call to arrange a weekday delivery with you. A working phone number is essential and please check your messages if you have a missed call.
Someone will need to be present on the day to sign for the goods and potentially assist the driver. Generally, deliveries will be next to the truck, so wherever the truck has access to is where your item will be dropped off. The driver generally cannot move items into backyards or your home due to OHS regulations. If the truck cannot get into the driveway (no driveway, too narrow, too steep), the only option may be to unload on the nature strip.
If your delivery included polystyrene, cardboard, pallet etc, it is the customers responsibility to dispose of these. This also applies to damaged parts, if, on the rare occasion, we need to send a replacement part we do not retrieve the damaged one.
If an item arrives with damaged parts (rare but it can happen in transit sometimes) replacement parts will be sent, not a brand new item.
Returns, yes we do offer returns, the return postage is paid for by the customer, we also have the right to claim the cost of freight that we incurred to send the item to you. If returning an item because of a damaged part, the cost to return the item would be paid for by the customer, as outlined under consumer law, opting not to accept a replacement part to fix a damaged product means the consumer covers return freight costs if they want to return and refund. Goods must be received in their original packaging and fit for resale.