Description
This unit is no longer available, we do recommend the new "Optima Wonder" instead, its a more modern design, with some extra features.
Outdoor storage solution – the popular KETER COMPACT SHED WITH PEGBOARD available at our special price!  With its 50/50 split between shelving and full-height storage for mops and brooms, the COMPACT SHED is ideal for storing household items outside.
Maximise the use of your storage area inside with the KETER COMPACT SHED WITH PEGBOARD, or better still, use an outside storage space on your patio or balcony, or in the yard for a secure, weather resistant solution to keeping everything tidy. Another strong and easy-to-assemble quality plastic outdoor garden storage product from KETER, the COMPACT SHED is designed as a free-standing unit, but the manufacturer recommends fastening it to the floor and wall for added stability. It includes holes and instructions for attaching to a wall or to the ground, see step 10 in our included assembly manual.
Outdoor storage and garden storage solutions are becoming more widely used as people realise that it simply makes sense to utilise outside areas for storing household items rather than taking up valuable space inside the home.  Secure weatherproof outdoor storage cabinets and boxes, particularly those made from quality UV-stabilised plastics that will not rust or rot, are an easy and economical way to take advantage of this trend. Keter manufacturers a wide range of plastic garden sheds as well as the smaller plastic outdoor cabinets and deck boxes.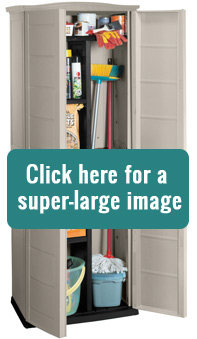 This unit, manufactured from UV-stabilised, injection-moulded plastic poly resin, its very popular, and that's easy to see why!
KETER COMPACT SHED WITH PEGBOARD features include:
Dimensions: 0.70m wide x 0.50m deep x 1.79m high.
Colour – Taupe/Beige
Ideal for patio or balcony
Broom storage and shelving 50/50 split
Ventilated, weather resistant and lockable
Shelves rated to 20kg each
Includes 4 double hooks to hang small garden tools etc
Indoor or outdoor storage use
Easy to assemble
1 year warranty
Price includes delivery to your address within Australia! *
* For details see Shipping & Returns