Description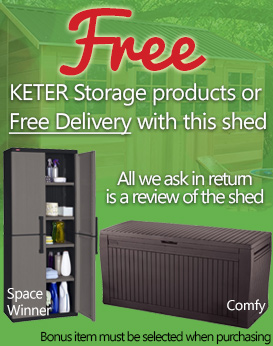 CEDAR SHED BIRCH 6×3 is the small garden shed with a difference – add some class to your outdoor storage solution! With its skillion roof configuration it can be positioned against a wall to save space, but its weatherproof design and construction allows it to be sited where ever is convenient.  This shed can be optioned without a rear wall for those that want to situate it against a house or shed wall, sealing the shed to that wall is recommended, talk to us about how to be achieve that. Timber garden sheds have advantages including superior insulation qualities and an attractive appearance which make them well worth considering as an option to the Zinc or Colour garden sheds which are commonly used.
The CEDAR SHED range of products is manufactured in Australia, and is constructed using 42 x 42mm termite resistant pine framing and 18mm thick Canadian Western Red Cedar VJ cladding with a Colorbond steel roof.  The BIRCH 6×3 is supplied in an easy to assemble kit with pre-made panels.  The panels come in raw timber (not stained or painted) allowing you to select the finish of your choice.  Typically time required for assembly is about 75 minutes.  The unit can be sited on a concrete base or paved area, or a flooring kit can be used.
The CEDAR SHED BIRCH 6×3 is supplied standard without a floor.  A rebated floor is available as an optional extra, as is also a Heavy Duty Floor Kit, both flooring kits include tough, Yellow Tongue flooring sheets as the finished surface.  The Heavy Duty Floor Kit provides for installation without the need for a prepared base such as a concrete slab or paved area.
CEDAR SHED BIRCH 6×3 features include:
Dimensions: 1930mm Wide x 940mm Deep x 1940mm High at rear 1835mm High at front
Heavy Duty Floor Kit or Rebated Floor available as optional extra, adding 140mm or 42mm to height respectively
Full-height double opening lockable doors (opening 1410mm)
Colorbond 'WOODLAND GREY' roof panel
Termite resistant pine 42 x 42mm framing
Canadian Western Red Cedar 18mm thick VJ cladding
Preassembled panels for quick and easy assembly
Rebated Floor available as an optional extra
Heavy Duty Floor Kit including Rebated Floor available as optional extra
10 year warranty
Delivery to your address available