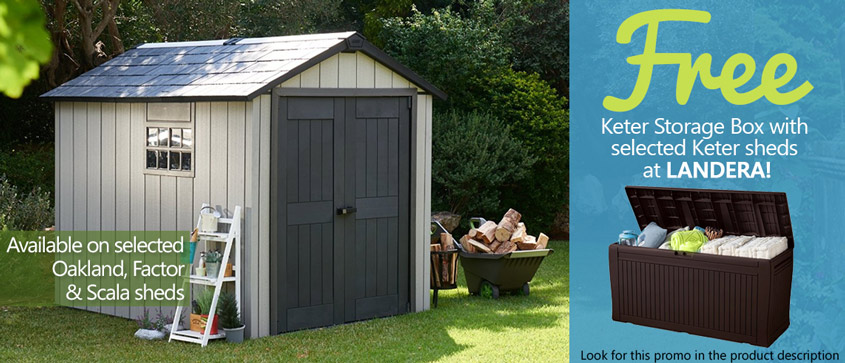 FREE FREIGHT available on most of our Plastic Garden Sheds. We have a wide range of Garden Sheds at the best prices you will find in Australia. With quality brands like Keter and Palram you can be assured of getting value for money and a great looking shed too!
Polyresin and polycarbonate plastic sheds offer significant advantages with their attractive appearance, resistance to damage and weathering and ease of installation. KETER plastic poly resin garden sheds and PALRAM polycarbonate garden sheds are rapidly becoming the weatherproof outside storage solution of choice for many people.
Visit the Landera Blog for related information and articles.
KETER Poly Resin Plastic Sheds
KETER is a recognised leader world-wide in innovative injection-moulded UV stabilised plastic poly resin outdoor storage products. KETER plastic garden sheds are sturdy and easy to assemble and feature user-friendly design and low maintenance.
All units are supplied with floors, making installation simple and quick - all you need is a level site to put them on. For durable, weatherproof outdoor storage of your garden equipment, tools, bikes, sporting gear, the KETER plastic poly resin garden sheds have your garden storage requirements covered!
The KETER range of plastic sheds include FACTOR, OAKLAND, BELLEVUE and ORION units, and we can deliver to regional areas such as Geelong, Newcastle, Gold Coast and Launceston as well as major centres in Brisbane, Sydney, Melbourne, Adelaide, Hobart and Perth.
PALRAM Polycarbonate Plastic Sheds
The PALRAM range of plastic sheds include ANTHRACITE and SKYLIGHT units
The PALRAM ANTHRACITE range of polycarbonate plastic garden sheds have virtually indestructible wall and roof panels. One innovative feature of the PALRAM ANTHRACITE is translucent roof panels, which make these attractive and long-lasting garden storage units well worth looking at as a lower cost option. PALRAM is also well known as the manufacturer of the range of SILVERLINE Greenhouses.
The PALRAM SKYLIGHT units are reinforced with aluminimum and galvanised steel frame components for increased durability and rigidity.